People's Meeple board game café re opens May 17th
When Ric Kemp opened his new board game café The People's Meeple in Huddersfield, West Yorkshire in December 2019 he was hoping to make some brass. His fist full of meeples, he launched the business in a blaze of glory. The People's Meeple was growing well and was ready to spread its wings. Pangolins, or maybe bats intervened with a modern-day plague. Increasing virus levels led the UK Government to declare a crisis.
By the end of March 2020 instead of being in the thick of a kitchen rush Ric found himself sat at home with his cat an' a glass of wine contemplating if quitting his steady job as the manager at a greetings card company had been a caylus decision.
But now, as hospitality in the UK reopens on Monday may 17th it's time to unlock! Epic adventures lay ahead …
Ric said, "Obviously, opening a new business is always a roll of the dice, and you have to see what cards you get. I wanted The People's Meeple to be the numero uno place to go for games and coffee. It's always a risk, launching a business but you take things one step at a time, pay attention to your worker placement, navigate the labyrinth of paperwork, and hope to catch the moon. We scrabbled to get open in time for Christmas, with a delightful patchwork of board games, great food and drinks. Things were going well but frustration followed in March and since then we've been on a rollercoaster. Tycoons are doing OK, so I hear, but for a business like ours, it's been a bit rummikub, as they say. But you can't lay down and cry. Oh, I was never aiming to be a food chain magnate anyway… "
"We've had great support from our customers while we've been closed. We've had our fair share of love, letters of support and our board game sales and raffles have taken OK. On the 12th April we were able to open for al fresco dining which is great if the weather is fine. Sandwiches are selling well. "
"We're ready to reopen for games and diners on May 17th. We've dobbled down on our safety, with hand gel, safety notices and we've taken out some tables. We'll be doing pizzas and toasties on our power griddle, Kings breakfasts, sandwiches and salad in a bowl. We know our customers go nuts for donuts, so we'll have plenty of them and of course we'll let them eat cake. On Wednesday and Saturday nights we'll be open late, and our bar will be open so people can spend their beer money."
"As for the future I really don't have a clue. Do you? Our core request is that we can stay open!"
Among Ric's customers keen to get back to board gaming are Morag Ricola and the person Morag is betrothed to, Kaido Rory Ricola,
Morag said, "I can't wait for The People's Meeple to re-open. I've spent a lot of time at home fiddling with Rory's Story Cubes… but when Rory goes to work I'm a bit stuck. I've been indoors that long my skin's gone Pale. O, won't it will be lovely to be back? "
Another regular customer told how the café's re opening might end some family feuds. OsKer Plunkett said, "There's been evenings when my partner has said to me, 'I'm fed up of seeing your Carcass On that sofa, you haven't got a monopoly on that remote control, y'know.' Well, I can't complain really, I suppose we all need some Time n' Space to ourselves. I'm sick of looking at me too."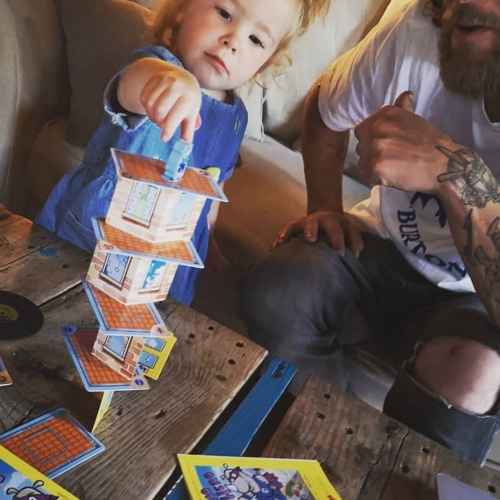 The People's Meeple re opens on Monday May 17th. Hopefully for Eternity!